Dishin' With Debbie-Witches' Hats
When our son was little, there was no more joyous time than Halloween through Christmas.  He always adored dressing in costume and trick-or-treating.  We'd usually try to get together with a group of friends, and sometimes, we'd meet at one of our homes for a quick bite and Halloween themed desserts before heading off for more sugar…crazy…I know.  But, it was fun, and I'll never forget those times.  These cute little Witches' Hats always made an appearance at those gatherings…and just like magic, they always disappeared.
The ingredients are simple…nothing tricky here!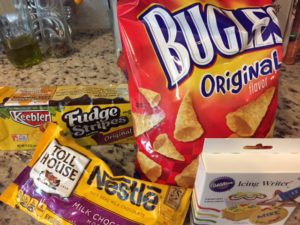 Wouldn't you love to dive right into the pool of melted chocolate?!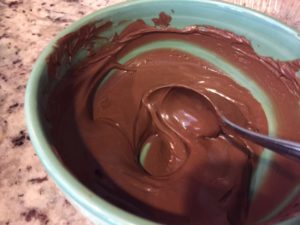 Start the dipping process…nobody said this wasn't gonna be messy…think Lucy working on the chocolate assembly line…if you're old enough to remember I Love Lucy!  If not, keep that info to yourself!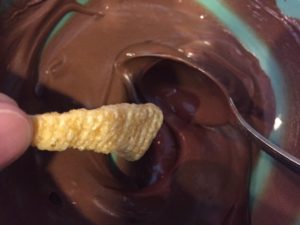 After doing several of them, I learned it was easier to hold them from the bigger open end…but do whatever works for you…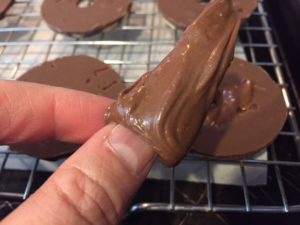 Then onto the base cookie…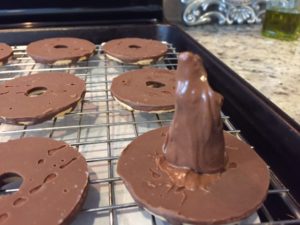 And let them set so they're more stable…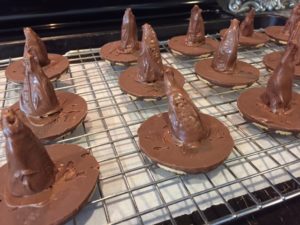 Then you decorate…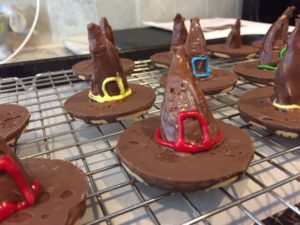 Ready for the party!
 Ingredients
1 package semi-sweet or milk chocolate morsels ( I melted about 1/2 the package, and that was enough for a whole package of cookies; about 20)
1 package Bugle corn chips
assorted colors of decorator tubes of icing
1 package Fudge Stripe Cookies
Directions
Melt the chocolate morsels in microwave according to package instructions.  Dip a bugle chip in chocolate to coat.  Put a dab of melted chocolate on each solid chocolate side of cookie to use as "glue" and place the coated bugle on the cookie to resemble a hat.  Place on a cooling rack over wax paper to set.  When set, use the icing tubes to pipe a hat band and buckle around the base.  My chocolate (1/2 the pkg) was enough to do a whole package of cookies, with a little chocolate left over.  I made about 20…could've stretched it to 22-24…and my store had buy one get one cookies, so I could have made roughly 4 dozen.  But…I stopped myself!
Sign me up for the V101.9 email newsletter!
Get the latest updates with music news, contests, events, and more when you become a V 101.9 VIP Member. Exclusive access to all things music and soul with your favorite throwback station.
By clicking "Subscribe" I agree to the website's terms of Service and Privacy Policy. I understand I can unsubscribe at any time.