Dishin' With Debbie-Santa Faces
I used to love getting those little holiday themed mini magazines/cookbooks at the grocery store checkout.  I got one many years ago when our son was little that had ideas to make treats for Santa.
They were super easy, and the kids could even help make them.  I ran across these Santa faces, and not only were they cute and easy, they were really yummy.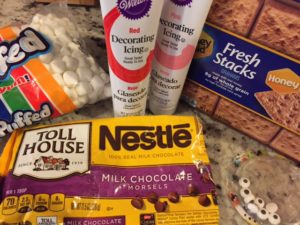 Pink frosting for Santa's rosey cheeks…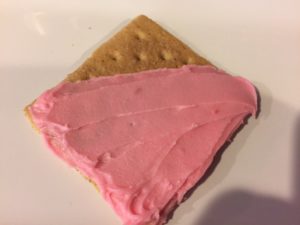 Add the hat…starting to take shape!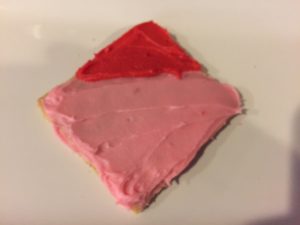 Look who's here! HO! HO! HO!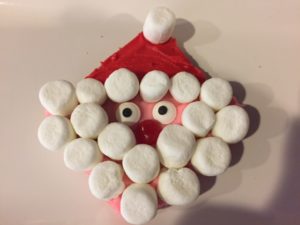 See the resemblance?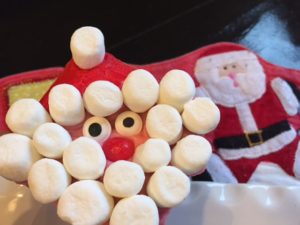 Cutie pie!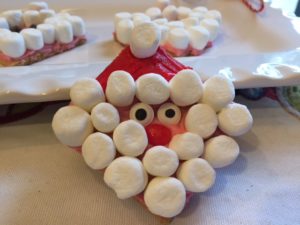 Ingredients
Graham crackers
red and pink frostings or white frosting that can be tinted with gel colorings (canned or tube frosting is fine)
chocolate chips or candies for eyes
red hots for a nose
mini marshmallows for the beard and hat pom pom
Directions
Turn one graham cracker square diagonally.  Using a small spreading knife, spread pink frosting on the lower half of cracker up to slightly above the halfway mark., and red frosting on top half of cracker for hat. Cover the bottom half with marshmallows for a beard, and nestle the red hot in the center just above top row of marshmallows.  Place candies or chocolate chips in position for eyes.  Place a row of marshmallows across the line dividing the top and lower half for the cuff of the hat, and place one marshmallow on the top for a pom pom of the hat.  Note:  The crackers will soften after a bit due to the frosting…which I actually kinda like.  But if you want them to stay crisp, just make them and eat right away!
Sign me up for the V101.9 email newsletter!
Get the latest updates with music news, contests, events, and more when you become a V 101.9 VIP Member. Exclusive access to all things music and soul with your favorite throwback station.
By clicking "Subscribe" I agree to the website's terms of Service and Privacy Policy. I understand I can unsubscribe at any time.